Welcome to Dries Visser Safaris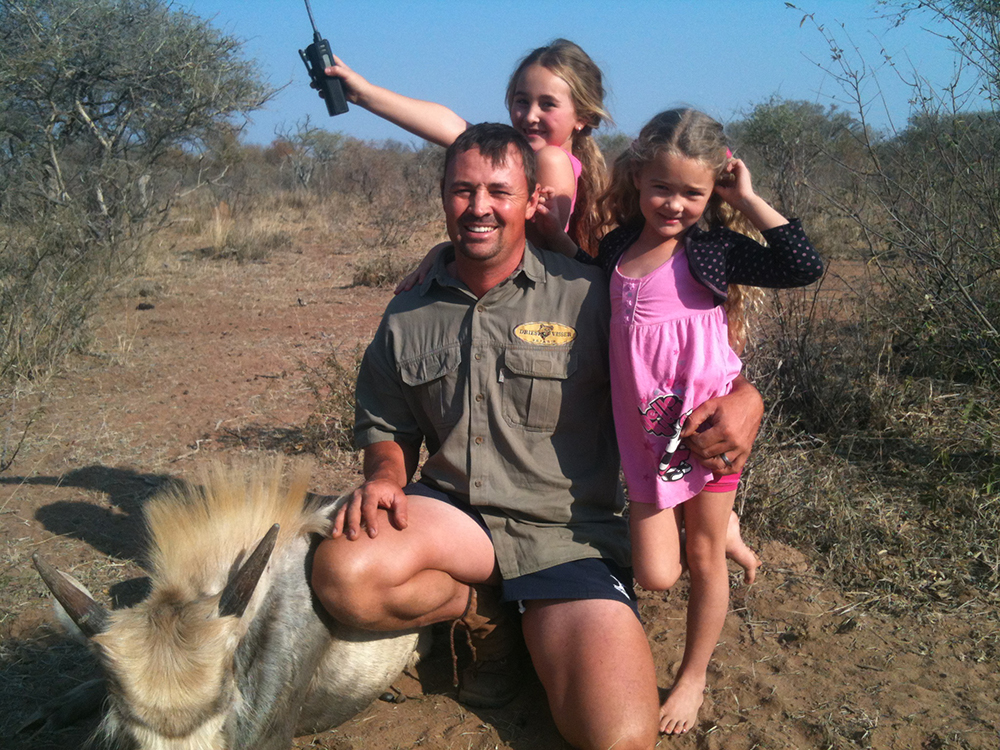 Dries Jr and daughters Dimion and Milandi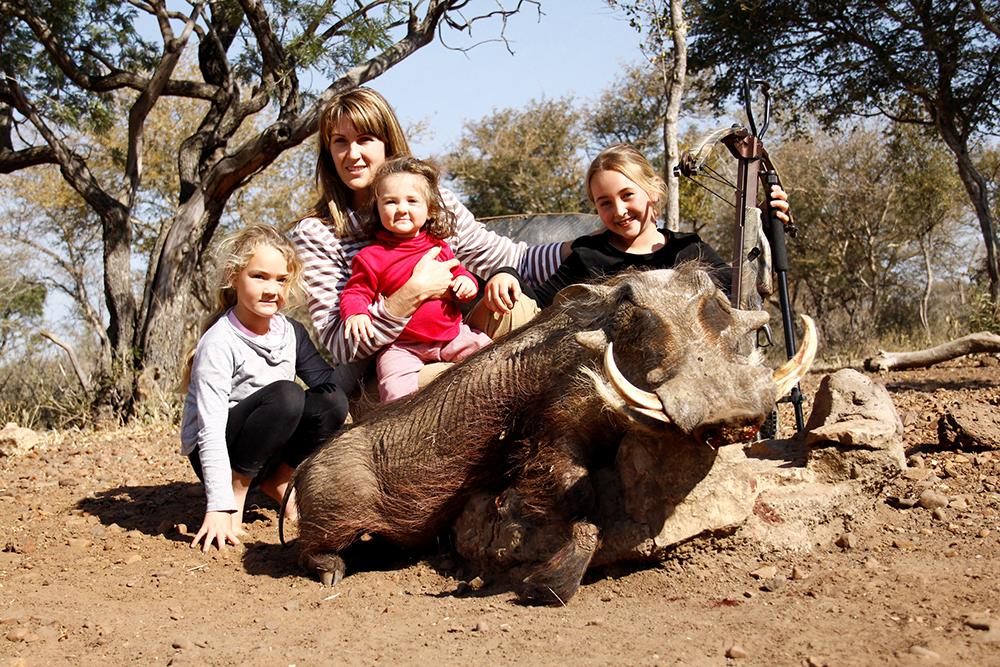 Dries Jr's family – Wife Hillana and daughters Dimion, Milandi and Amone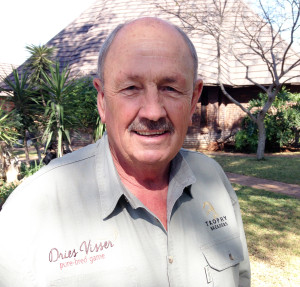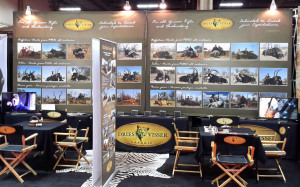 Dries Visser Safaris Booth at SCI 2016
Well known and respected Outfitter Dries Visser Safaris is based in the Limpopo Province of South Africa and a mere 40 minutes north of Thabazimbi. This region, called "The Bushveld of South Africa" is absolutely the top hunting area in the country and caters annually for the highest quality game and trophy hunting. We are honoured to play a major role in this most exclusive hunting paradise of South Africa.
Dries Visser Safaris was established in 1990, after Dries Visser Sr had successfully developed one of the most spectacular Private Game Ranches in Thabazimbi, South Africa – Citadel.
Today Dries Visser Jr – who grew up on the hunting reserve and gained experience from an early age hunting with his father – is the main driving force behind this hunting outfit. He is also a highly skilled hunter who strives to ensure that each and every hunter returns home successful in accordance with his well-known motto "dedicated to exceed your expectations".
The goal of Dries Visser Safaris is to combine hunting experience and dedication with the art of hunting, with personal care and attention to provide hunters with an experience of a lifetime. This is done by hunting the best concessions with high quality trophy animals, in addition to the skill and experience of hand-picked professional hunters in guiding clients to harvest the best trophies.
The Dries Visser Safaris staff – amongst the best in the industry – consists of highly trained and experienced professional hunters, trackers, skinners and camp staff, who share the goals of the company and strive to adhere to the high standards of service and excellence.
Dries Visser Safaris realises the long-term responsibility toward conservation in general and to their own concessions in particular. A strict game management plan is maintained, to ensure that good quality trophies are taken consistently.
Dries Visser Safaris have been hunting with rifle hunters since 1990. We are dedicated to cater for each and every hunter's needs, no matter the age or country of origin.
We started hunting with European hunters when Dries  Snr.  started the outfit.  In the early 1990's we moved our focus to the USA market and have been very successful.  We have also conducted many rifle hunting safaris in Botswana, Namibia and Zambia, with great trophies. We still focus on rifle hunting but at the same time we specialise in bow hunting on separate concessions.
Dries Visser Safaris has specialised in Bow Hunting since 1995. For almost 20 years they have catered for hundreds of bowhunters, and fast became one, if not the largest bowhunting outfitter in South Africa. Their bowhunting concessions are some of the finest "Archery Friendly" areas you will find in Africa today, and are used exclusively for bowhunting, with an abundance of game. Many different species can be hunted from blinds or tree stands, making this a bowhunter's paradise!
Today Dries Visser Safaris is proud to be a respected member of the Professional Hunters Association of South Africa (PHASA), Safari Club International and Dallas Safari Club. Clients hunting with Dries Visser Safaris can be sure of a legal and ethical safari.

My wife and I just completed our third trip of a lifetime with Dries Visser Safaris. The accommodations ,food, staff , PH , quantity  and quality of game were up to the excellent standards that we have experienced on each trip. Anyone thinking of going to Africa and who to go with,  I just can't say enough good things about Dries Visser Safaris. I guess the fact that I have just completed my third trip with them says it all. Just do it!
From the moment I was picked up at the airport until I was dropped back off, Dries Visser Safaris made my dream of an African safari a reality.  The staff is great, the PH's are fantastic, the trackers are unreal in their skill.  I enjoyed the plains game portion of my hunt with my PH Willem almost as much as the excitement of the archery cape buffalo hunt.  The game was plentiful and trophy class.  Absolutely an outfit to hunt with time and time again.
What an amazing 7 days my daughter and I experienced during our first vacation to South Africa.  The beautiful camp with very friendly staff and PH's greeted us on arrival.  During our week of hunting my PH, Johan, explained all about the animals we were seeing – the habits, and how to determine a trophy class animal.  The quantity and quality of big game animals surpassed my high expectations. Looking forward to returning for another hunt, this time, bringing my other daughter.
I just returned from my second Safari with DVS. My second experience was even better than my first a feat hard to accomplish! My long time friend/PH Hein and I worked hard day/night to hunt true trophy species on my list. Results were 9 arrows, 9 animals none lost. DVS does everything feasible to make your experience one of a lifetime. From airport pick up to drop off and everything in between, DVS would be tough to beat. Will be back again!
After several years and over 28 days of searching for lion my son and I continued our adventure to the Kalahari Desert.Being used to a long hike, as a result of our previous excursions, we were guilty of not paying as close attention to business. A movement of the bushes and an undeniable growl unmistakably shouted to us "I am here and you are too close". Fortunately, our opponent was similarly surprised having been awakened from a warming nap. His actions allowed us to calm our trepidation and harvest the majestic creature after a 10 year journey.
Emerson Bloomfield, my good friend and hunting companion, drew back his bow and prepared to shoot a Jackal,shocked to see that that his brand new PSE had come flying apart at the shot.  Thankfully he brought a back up bow,  a 30 year old PSE affectionately known as "Trusty Rusty".  After a slow start Emerson, William, and Trusty Rusty went on a bender, going on to take 8 one shot kills in 8 straight days.  Every shot was a pass through and half died within sight of the blind. Some of Emerson's favorites were his zebra, gemsbok, red hartebeest, and nyala.I also had a great hunt and was thrilled to be guided by the world famous Hein Lottering.  Together, Emerson and I harvested 18 animals in 14 days.  What a hunt!  We want to thank Dries Visser Jr. and Dave Kidder for putting this hunt together for us.  I also want to thank Dries Visser Sr. for helping me track down my sable.  What a thrill to see this legend work a  track.
My wife and I went on safari with Dries this year (our first),and had a great time. I was able to get 8 different trophies in 7 days.Dolf, my PH, was great! He kept the whole hunt fun andeducational plus he is a bow hunter so he knew what hewas doing.The trackers were unbelievable and of course I neededthem.I would recommend this hunt to any bow hunter, bringalong your family even if they don't hunt, the food andamenities are exceptional.Thanks to Dries and the crew I have memories and trophiesto tell my grandson and friends. Thanks again
I had the great pleasure of hunting with Dries Visser Safaris in 2010 and had a remarkable experience.