Dries Visser Safaris
Testimonials
Hear from our satisfied clients and see why Dries Visser Safaris is the premier hunting destination in Africa.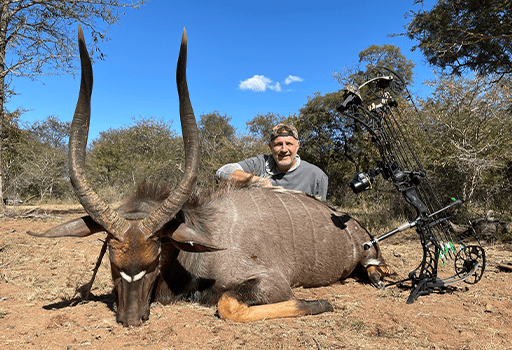 It has been 20 years since I have been to Dries Visser Safaris, and they didn't disappoint. I was very fortunate to hunt with my old friend Dries Jnr, we had a great hunt along with many laughs! Liza was a great camp manager and as always, the staff was fantastic. The 7-day hunt was too short.
Thank you for the hunt and better memories
612-309-0518
Alan Landreville, USA
When you think it couldn't have gotten any better, it did! This was our second time here at Dries Visser Safaris and it was even more amazing than the first. Thank you for an awesome time. We already miss the amazing people and accommodation. Already thinking of our next trip!
903-355-5015
Bryan Henderson, USA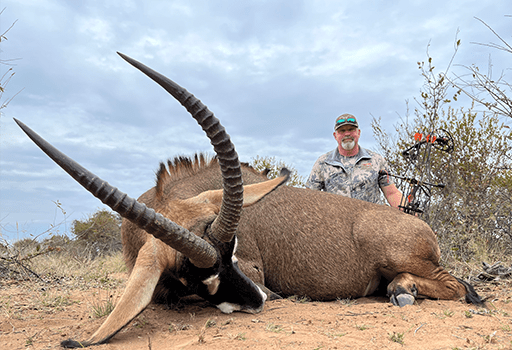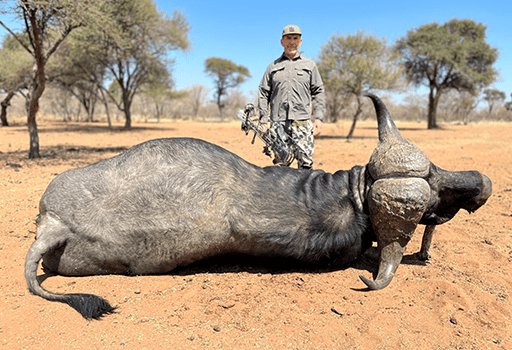 This is my 4th hunt with Dries Visser Safaris. As usual the staff, PH's and accommodation was first class and over the top, every detail taken care of. But this 10-day hunt was like no other. Each day seemed better. We took 19 beautiful animals, from Steenbuck to Cape Buffalo. This is a magical place! A bowhunters dream. Hunting at its finest, beautiful, bushveld and great long-life friends.
601-310-3834
Chip Hunt, USA
This was my 7th safari with Dries Visser Safaris. Once again, my experience exceeded my expectations. I keep returning
to Dries Visser Safaris for: The people and the great service. Thank you Dries and Gerald my PH for the exceptional quantity and quality of the game available.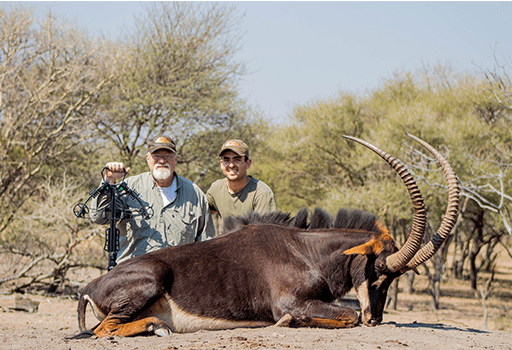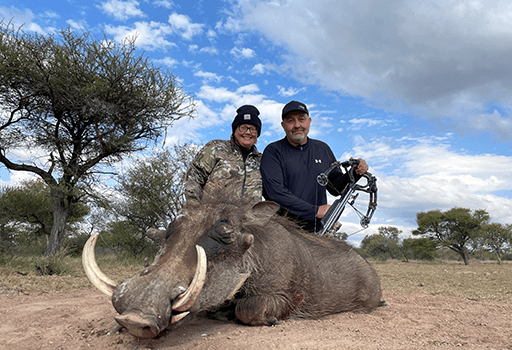 Our 4th trip to Dries Visser Safaris was just as great as the rest! There's always something new to see. Finally, I was able to get my nemesis the Zebra! Made some new friends.
Had a great time, coming back soon
701-590-0055
Doug Tyrell, USA
First time to Africa was fantastic. Didn't know what to expect but was definitely better than expected. Accommodation was excellent, food was great. Best part was the hunt. Stian my PH
was the best. All staff were very helpful. Will definitely returns. Would recommend this to anyone. Look forward to returning.
509-750-7757
Doug Berg, USA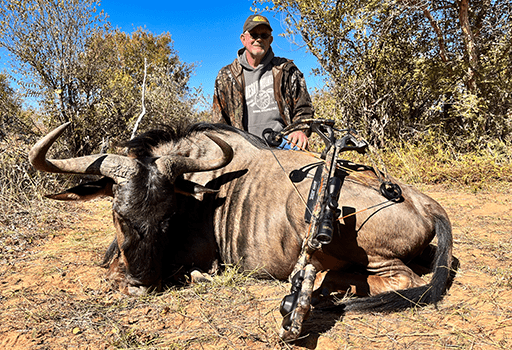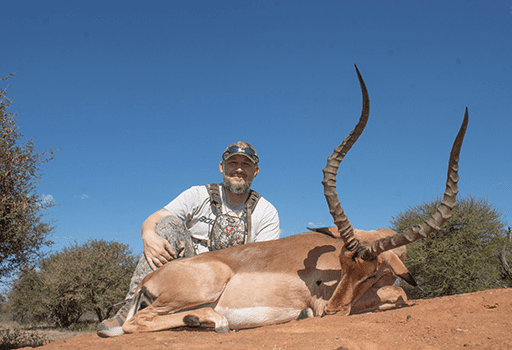 The hospitality was amazing and everyone from the kitchen team to the skinners at the walk-in coolers were the friendliest and some of the nicest people I have ever met in my life. My PH Gerald Niehaus was phenomenal. He had a plan every day and as needed made adjustments to ensure I had opportunities. He is a true professional and he gained my respect on day 1.
775-544-9138
Jake Vialpando, USA
The Dries Visser staff is here to serve you in any way you needed. The hunting is outstanding with some off the best
PH's in South Africa. The PH's will put you in front of any animal you wish to harvest. The food is amazing. You will not go hungry while in camp. I am sad to leave this beautiful place now. I am happy I was able to make new friends here. I cannot wait to come back. Thank you Dries Visser Safaris.
985-520-1450
Joe Vance, USA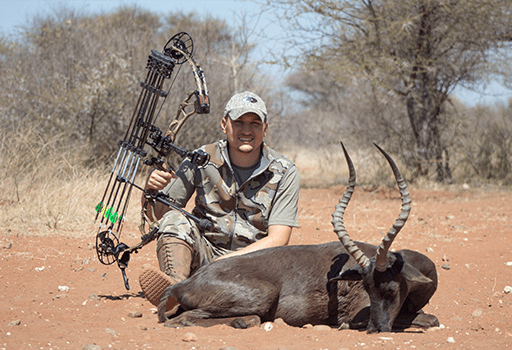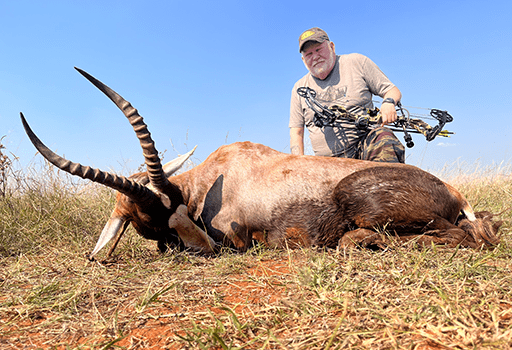 I was firstly impressed by the facilities; the camp is beautiful and the rooms very nice. Stian was our PH and made sure we had a good time. He helped to put me on the animals I wanted to hunt. He was a great help and professional. The animals were beautiful and great to hunt. My wife also took part and had a great time. We would like to thank everyone here for making our hunt – Holiday One that we will always remember and make us want to come back. Thank you!
780-968-9161
John Paipals, Canada
What A Trip! Stian my PH was outstanding. Not to mention all the other guides, trackers, and staff. Made new friends can't wait to come back. I was able to get my 5 animals on my list and 2 extra. Well done Dries Visser Safaris.
612-483-5292
Jonas Starita, USA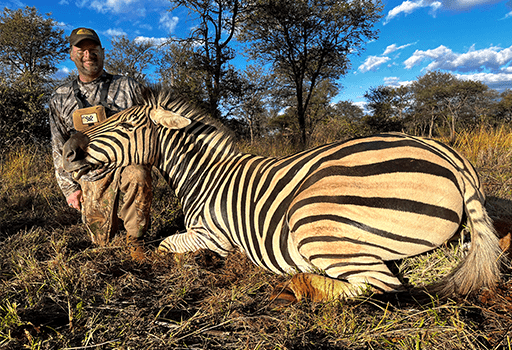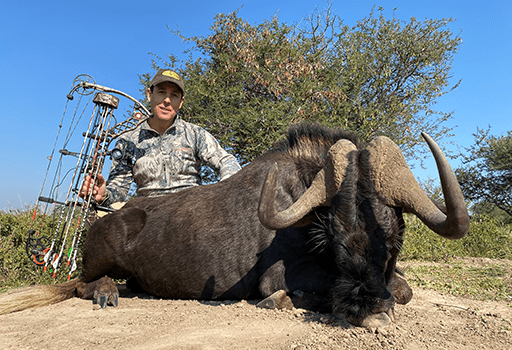 I had another great hunting trip with Dries Visser Safaris. First class service at 5-star accommodation. Hein was a fantastic PH as het knows the property and the animal's pattern. I spot and stalk a Sable bull and Hein put me 30 yards from him and as we sat for an hour waiting for him to stand. Hein clearly
explained how it should play out once he stands up, and that's exactly what happened! Overall great experience and I will return!
306-778-2235
Kelly Silbernagel, Canada
It is difficult to put in words the experience I had at Dries Visser Safaris. Staff and my PH Stian made me feel welcome. Stian went out of his way to make sure that he showed me what was needed and patience answering every question I had. I am looking forward to the next trip to watch them doing it all again!
307-371-3664
Kole Egbert, USA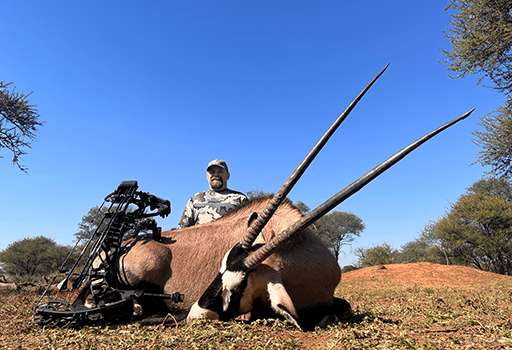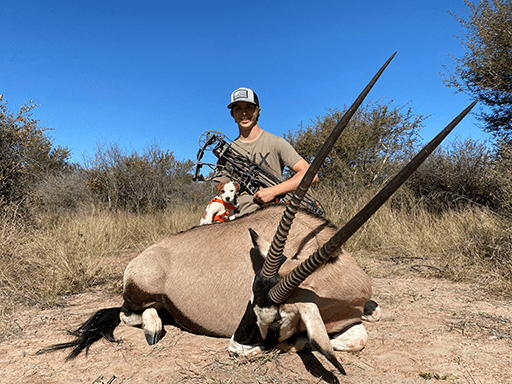 It was my first trip to Africa, and I couldn't have asked for a better experience. Before I came, I really wanted a Kudu the last day we've got a huge one right before we had to leave. This trip was a dream come true and I shot animals I have been dreaming about for years.


509-750-1614
Kyle Cox, USA
It was a nice stay here at Dries Visser Safaris. It was my first hunt with the bow, and it went perfect! It was also very nice to taste some of the different game.
45-246-51708
Lasse Vinding, Denmark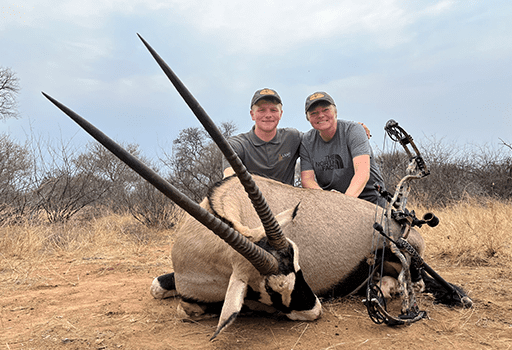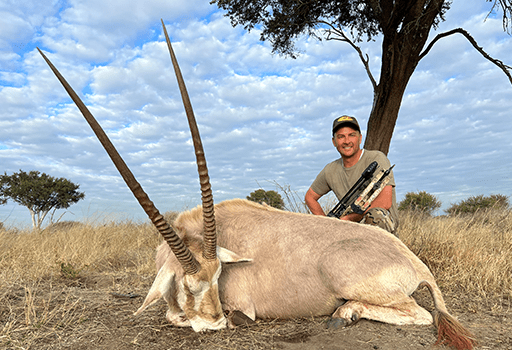 Unbelievable! My second trip to South Africa was off the charts amazing. Everything from the staff, facility, trophies
and especially the PH are simply the best. I can't believe how fast 14 days past. For the second trip hunting with Hein talented professional hunter who knows his game makes the hunt the best it can be. Already making plans for my third trip to Dries Visser Safaris.
801-374-6711
Mark Budler, USA
I had a great experience from the time we landed to the time we left the farm. Great animals, great staff and facilities. The food was great as well. Thank you, Tim Teal, for taking me on
this trip it was a once in a lifetime experience. Thank you to Dries Visser and staff, I look forward to my next visit and hunt.
210-381-3532
Matt Gillett, USA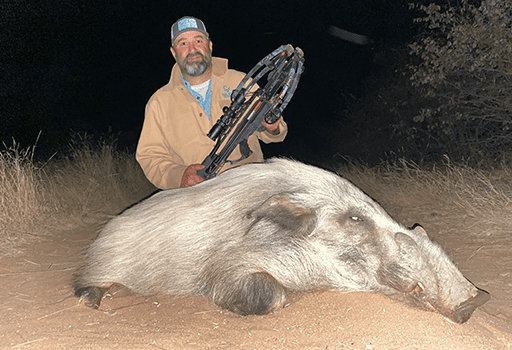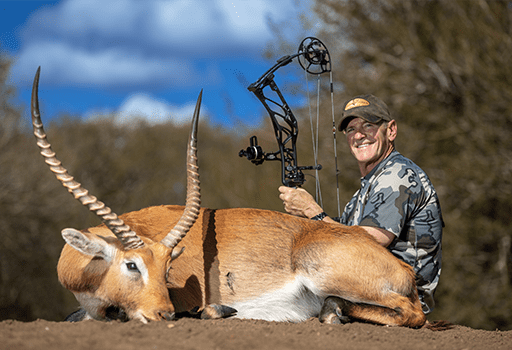 Was here on a nine-day hunt. Primary animal was a Lechwe. Interesting hour drive to hunt the animal. After 3 days got the opportunity and took a big Lechwe bull. Day 4 Antonie drove to a blind where I ended up taking a massive warthog, a nice black impala and decide to take a Roan which turn out to be a
very big bull. All around great hunt and awesome staff.


801-598-7696
Michael Lambert, USA
Nice to be back at you guys. We had some fantastic experiences. The hunt was top and the stock of animals large. The staff were super, we felt like part of the family.
What a holiday!
45-246-51708
Morten Vinding, Denmark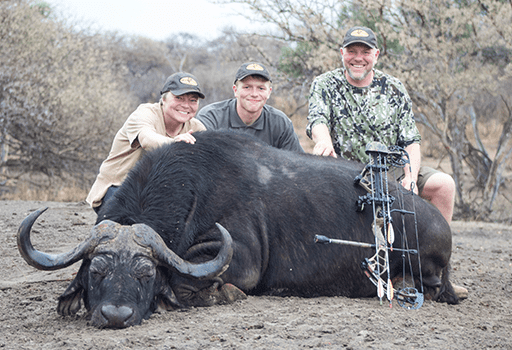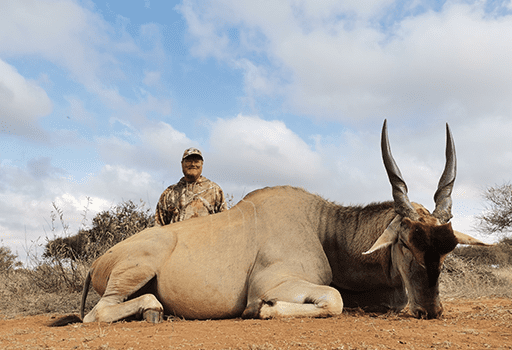 A bow hunting African Safari has been on my bucket list for 10 years, I finally decide to pull the trigger for my 50th birthday with my best buddy. What can I say. The experience of the staff, accommodation and hunting was more than expected. Meet sure great people as well as other hunters at camp.
Can't want to come back again.
520-241-4736
Nate Running, USA
Dries Visser Safaris went far and beyond our expectations, their professionalism was over the top from animal tracking,
taking care of the harvested animals, skinning and caping. The crew at the lodge was amazing and the lodge was over the top with some of the most amazing food I have ever had. Thank you for a trip of a lifetime!
509-750-1614
Nathan Cox, USA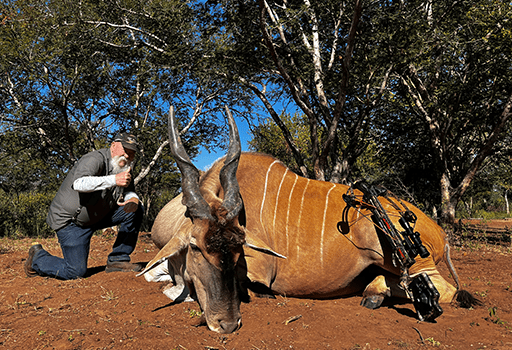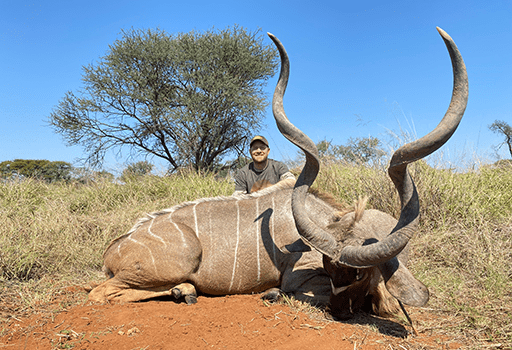 All my experiences at Dries have filled a lifelong dream for me. I travelled halfway across the world to get to one of the most amazing hunt camps in South Africa and they did not disappoint. I saw so many amazing animals and met a staff of great people. I came to a bunch of strangers but leaving a group of great friends, as I leave. Thank you to all the staff at Dries Visser Safaris, I will cherish these memories forever.


306-741-5105
Ryan Hilgers, Canada
Upon arriving in Johannesburg, the experience was amazing. The recommended hotel "Africa sky" was fantastic. The staff at Dries Visser Safaris is second to none with assistance in every area of my hunt and stay. The facility's at Visser is comfortable and always clean. Food and meals were amazing also five stars. My PH Stian knows his animals and hunting area like the back of his hand. Also, the quality and quantity of so many different animals were world class. I am booking another trip as I wright this.
208-880-7101
Ron Babneau, USA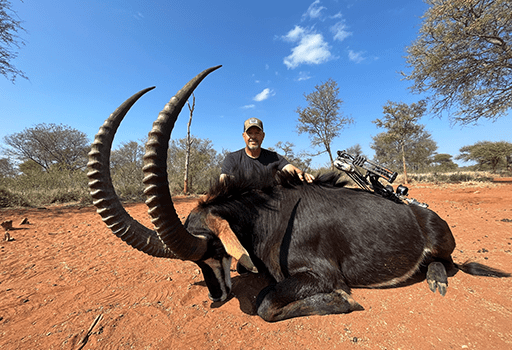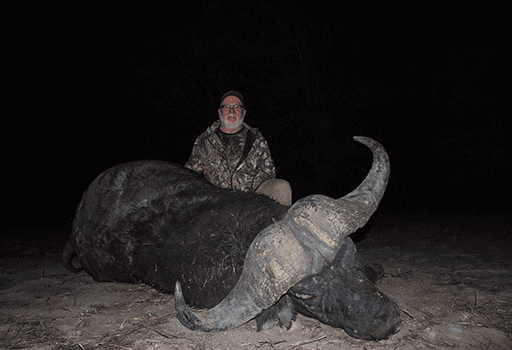 I hunted Sable, Warthog Cape Buffalo. The buffalo hunt was by far the most exciting, my PH was excellent. I was really impressed with the drone he used after I shot the buffalo to see the whole episode unfold. My PH and tracker were really good at tracking and finding my sable and warthog.
610-960-1910
Ronnie Folk, USA
I just enjoyed another fantastic 10-day hunt (this being my second) with Dries Visser Safaris. Just as in 2014 when I
first visited, they maintain a top-notch operation. Especially, for those of you who are feeling a little overwhelmed with your first hunting trip to Africa, you can rest assured that you're making the right decision by hunting with this outfitter.
570-815-8086
Steve Ujvári, USA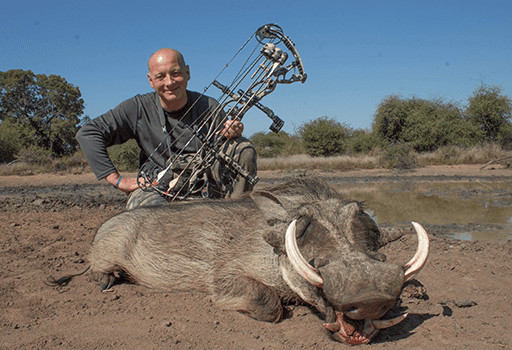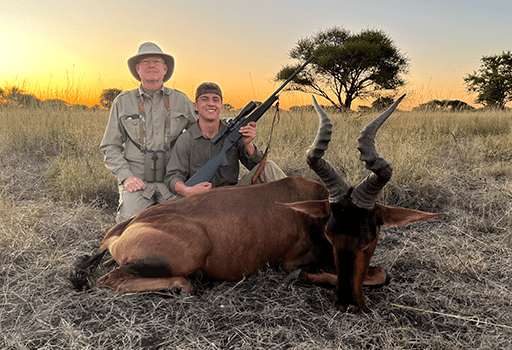 My hunt was more than I could hope for. The PH went above and beyond to make sure we were successful. We were successful at getting everything on our list and the size of the trophies was icing on the cake. We will be coming back soon!


Great experience, the entire Dries Visser team was outstanding from top to bottom. Great hunting, food, and
accommodation. Our PH Johan and tracker Getmore made the experience more exciting and fun than we could have imagined. Two thumbs up for the Dries Visser team. Looking forward for our next trip back.
979-540-6178
Tim Mitchan, USA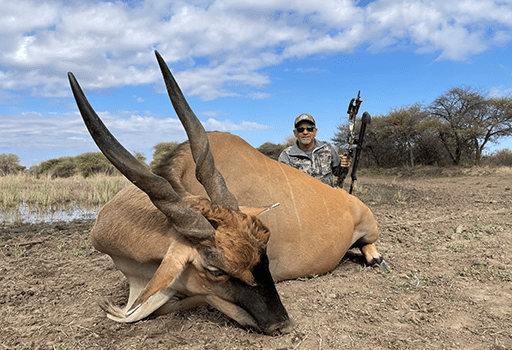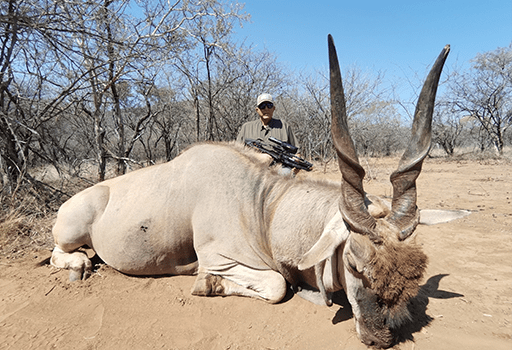 Dries Visser is the best of the best! This is my second trip here and they never disappoint from the food to the PH's, rooms and everything. Took several high-end animals, impressive! You will not wait for anything. Rooms were super clean as always. Staff is excellent. The hunts are to be remembered forever! I could go on and on, but you just need to experience the hunt yourself. This has become an annual trip for me.
830-570-2325
Tim Teal, USA
To Dries and the whole staff at Dries Visser Safaris, thank you for another trip of a lifetime. 13 Trophies in 11 days. Also seeing a leopard at 3 yards, something I'll never forget. I promise it won't be so long between trips this time.
979-571-2149
Travis Todd, USA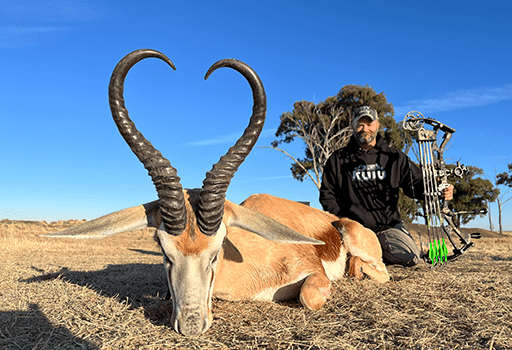 Subscribe To
The Newsletter
Sign up for our newsletter to stay up to date on the latest safari experiences and special offers at Dries Visser Safaris